Whether you have targeted networking goals or crave the serendipity that connects you to intriguing people you didn't know you wanted to meet, there are tons of opportunities at EPIC2020.
Networking on Pangaea
During 19–28 October, Pangaea—our virtual gathering place—is your 24/7 networking hub. You can build a profile describing yourself and your work, browse or search for other attendees, message and chat, hold 1:1 or group video meetings, participate in discussions, visit exhibits, and get support. EPIC people will be on hand to assist you, whether you need help getting set up or figuring out the best strategies for connecting with others.
From Pangaea you'll also access the entire conference program, including two kinds of sessions specially designed for meeting new people, building community, and having fun: Cohorts and Mingles.
Cohorts
Your cohort is a smaller, facilitated group of EPIC travelers—a base of sustained connection, support, and exploration. You'll kick off the conference together; discuss sessions and themes that inspired, delighted, confused, or confounded you; and have fun with specially designed, collaborative activities.
To find your cohort sessions in Pangaea, navigate to: Schedule > My Agenda.
Meet Nichole Carelock, Global Cohort Chair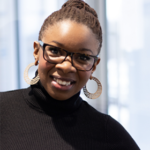 Dr. Nichole Carelock is an industrial anthropologist with 10+years experience building technical solutions that not only work for people, but with people. Her expertise spans from service design for systems with millions of users, to intimate cottage industry ethnographies. She belongs to and serves many communities including EPIC, AfroTech, User Experience Professionals Association (UXPA), and the American Anthropological Association (AAA). In addition, Nichole is passionate about digital services for vulnerable populations and prides herself on being a "slow thinker" in her world of "failing fast" "rapid iteration" and "disruption." Through slow thinking Nichole works to ensure that innovation, strategies, processes and products are anchored in what matters to people in their everyday lives today and over time. Read and watch Nichole's past EPIC contributions here.
Mingles
Build new connections through fun, interactive activities with EPIC people near and far! Using creative prompts and engaging exercises, we'll learn about each other, laugh, and even take away some facilitation techniques and ice-breakers we can use in our own workshops and teams.
Our global schedule offers 2 opening receptions and 9 mingles—find your region to see the sessions scheduled for your time zone, and join as many as you like.
Cards Roulette: Following the conference welcome presentation, stay and mingle in pairs and small groups. We'll use specially curated prompts to discover interesting things about each other and make meaningful connections that we'll build on throughout the conference.
Picture Ping Pong: Collage visual images together with a small breakout group. Explore and discuss how the pictures you choose together reveal cultural contexts and perspectives.
Show and Tale: Meet and socialize with fellow EPIC attendees in an informal, fun small group format. Everyone will be asked to bring an object—sacred, mundane, or just plain silly—that holds a story that they can share with their group.
Snack Hack: Bring your own favorite or regional snack to meet, mingle, and nibble on. We'll share stories, recipes, brands, and other aspects of our edibles with other EPIC people from around the world.
Meet the Regional Chairs and Mingle Masters

Charlie Cochrane (Wodonga region) is the principal of Jump the Fence, an ethnographic research consultancy based near Wollongong in Australia. He studied anthropology back in the day at Cambridge. He has over 25 years experience in research in both the UK and Australia, exploring topics as diverse as risky driving, how people clean their homes, and enrolling a child in school. He has taught at the postgraduate level at the University of New South Wales and Nanyang Technological University, Singapore. Charlie pioneered the practical application of ethnography to business market research problems in Australia. He first attended EPIC in Boulder Colorado in 2011 and co-presented at the video plenary session at EPIC in Hawaii in 2018.
Marta Cuciurean-Zapan (Parkes region) is a design researcher who focuses on building innovative research approaches, futures perspectives, and the intersection of content and culture in teamwork. Marta also teaches human centered research and design at DePaul University. She has a Master's in Cultural Anthropology from Temple University and a Bachelor's in Anthropology and Art Theory and Practice from Northwestern University. She is currently a Senior Design Lead at IDEO. Read and watch Marta's past EPIC presentations here.
Tom Rowley (Wodonga region) holds a masters degree from Cambridge University. He has worked as a consultant in strategy and innovation for over 20 years. He started his working life in technology journalism before moving to Kantar Consulting to head up the future insight practice. Before co-founding Stripe Partners, Tom founded the UK Govt-backed Good for Nothing expert volunteering platform. Good For Nothing spread globally, operating chapters in 46 cities around the world. Tom manages the business side of Stripe Partners operations and leads strategy and innovation projects with global businesses including Nike, P&G, Verizon and Repsol. Read and watch Tom's past EPIC presentations here.